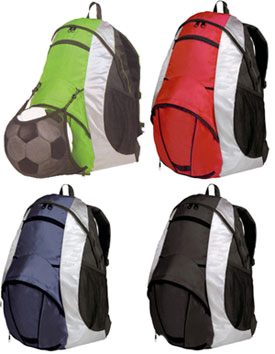 The
sport bag
is a must for all body and fitness conscious people who are members of sport clubs and fitness centres or gymnasiums. As the country become more and more concerned with their health many companies offer gym memberships as incentives and perks for their staff, some even have their own fitness centres in house which staff can use for free.
We supply
sport bags
to many companies who in turn hand out to staff to use, a typical sport bag will be printed with the company logo, free roaming advertisement. We also supply to sport companies for sport related promotions, as well as having various panels for printing our bags also come with a removable compartment which as designed to house a football or a rugby ball.
Our
ball bags
come in various different colours including lime green, red, blue and black and units are priced as plain, meaning without printed panels. Size wise they measure 30.5 by 16 by 49 centimetres; large enough to fit a towel, trainers, shorts and a sports top, plus pocket space for your keys, wallet, purse and whatever other personal effects you carry upon your person.
If you would like to order some sport bags from us you can twenty four hours a day via our online ordering facility, alternatively you can give us a call and talk to one of our team.
Labels: gym bag, promotional sports bag